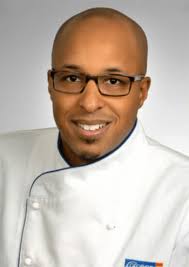 Chef Warren Ford
Warren Ford has been a chef for over twenty years, and been around kitchens for almost 30. A member of the culinary faculty at George Brown College, he started back in 2008 on a part time basis. Then in 2015 was hired as full time faculty position with the Centre for Hospitality and Culinary Arts. A former student and graduate of George Brown's culinary program, he now feels privileged to be able to bring his skill and knowledge to the educational forum.
Chef Ford has international hotel and resort operations experience having worked in locations such as Grenada, Miami, Bermuda, and Italy. As well, his experience at local restaurants include Wayne Gretzky's, 360 (CN tower), and Paese Ristorante. Chef Ford was also Executive Chef for resort style retirement facilities in Toronto, with a focus on upscale nutritional dining. His latest challenge has him representing Ontario in culinary competition at the CCFCC National Conference in 2016.
Chef Ford's own philosophy on food and cooking is to keep ingredients as pure and healthful as possible. By assembling flavour profiles that can blend well but still speak for themselves, Chef Ford's customers have enjoyed excitement in their mouths while they trying to figure that one elusive ingredient.


MACKEREL RUNDOWN (RUNG DUN)
4 whole small mackerel, cleaned
2 tsp minced Garlic cloves
2 Stalks Escallion, chopped fine
½ sweet red pepper, sliced
2 Large Tomatoes, chopped fine
4 Sprigs Thyme, finely chopped
1 Scotch Bonnet Pepper, chopped fine (optional)
Rinse mackerel in ½ cup of water with lime juice. Pat dry and season with salt and pepper. Dredge in flour.
In medium saute pan add olive oil to cover the bottom of the pan. Bring oil to a medium to high heat. Gently saute whole mackerel in hot oil for 3 minutes on each side. When golden brown remove from pan and reserve.
In a clean medium saute pan add olive to cover bottom of the pan. Add the onion, garlic, scallion, sweet pepper, tomatoes, scotch bonnet pepper, thyme, and vinegar. Saute until vegetables are translucent.
Add coconut milk and ½ cup of water, bring to a gentle simmer.
Add the mackerel back to the pan and let simmer for another 2-5 minutes on medium heat.
Add Salt and Pepper to taste, and while simmering baste fish with sauce.
Serve with your choice of either boiled green bananas, yam, roast breadfruit, and/or boiled dumplings.
Enjoy!!
COURTESY: Chef Warren Ford