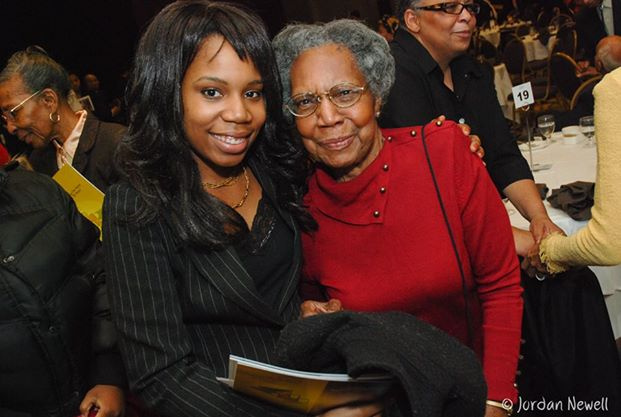 Black Historian Rella Braithwaite
passes away at age of 96
Photo: Historian Rella Braithwaite (R) with her granddaughter at the OBHS Black History Month Kick-Off Brunch

The community, family and friends are mourning the passing of the legendary Black historian and writer Rella Aylestock Braithwaite. Rella and her late husband Henry "Bob" Braithwaite, a World War 11 veteran, settled in Scarborough in 1946 and were one of the first African-Canadian families to live in the neighbourhood. Together the couple raised six children, Bryan, Victor, Valerie, Cecil, Diana and Charlane.
Although she had moved to Toronto as a young adult, until her death on July 23, 2019, Rella was one of the last surviving elders that had grown up in the Wellington County Black community, the first African-Canadian Black pioneer community in Upper Canada that was formed in the late 1700's.
Rella's sister Reverend Addie Aylestock was the first woman ordained as a minister in the BME church and the first Black woman ordained as a minister in Canada.
Seeing the need for their children to know their roots and rich cultural heritage, Rella developed a successful career as a Black historian, writer and researcher serving as co-president of the Ontario Black History Society for 3 terms.
Rella's Favourite quote "I expect to pass through this world but once. Any good thing, therefore, that I can do or any kindness I can show to any fellow human being let me do it now. Let me not defer nor neglect it, for I shall not pass this way again." – Stephen Grellet.
Funeral will be held at the McDougal and Brown Funeral Home Scarborough Chapel, 2900 Kingston Road (near St. Clair Ave. E.) on Monday July 29th. 2019. Viewing is at 9am and service at 10am.